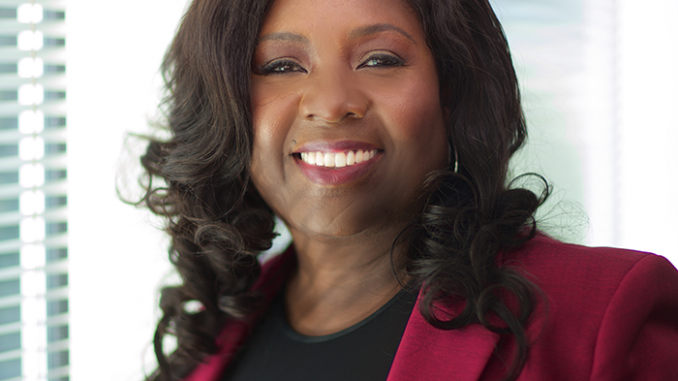 By Phyllis Cunningham
"It is crystal clear to me that being in business is not just about me but rather, the service I render to others— my family, my employees and my clients."
For many years, I questioned God about my purpose in life but I never dreamed I would be in business for myself," says Dr. Margaret Wood, the savvy entrepreneur, President and CEO of WOOD Consulting Services. A first generation college graduate, her natural curiosity and talent in computer science began at Surrattsville High School, where she excelled in a computer math class. After graduating, Wood attended the University of Maryland Eastern Shore where she earned a Bachelor of Science degree in Computer Science. From there, Wood pursued her Masters of Science degree in Computer Science from The Johns Hopkins University. Later she attended George Mason University where she earned a Doctor of Arts degree in Community College Education with a concentration in Computer Science, along with a Post-Graduate Certificate in Software Systems Engineering.
Woods' early professional career began as an Associate Computer Scientist and she also worked for nearly fifteen years as a defense contractor performing project management and various computer science roles. One day, her branch chief asked if she had ever considered starting her own business. He suggested that she speak to another business owner who was doing similar contract work. To her surprise, that owner flatly discouraged her from moving forward with the idea. Oddly, the seeds of doubt that he tried to sow had an opposite effect on Wood. Six months later, with steely determination and the support of her branch chief, she established WOOD Consulting Services in April 1997, winning her first government contract with the National Security Agency.
During her first two years in business, Wood worked solo and in 1999 she hired her first five employees. Primarily focusing on process improvement, the company soon gained a reputation of excellence. From the very start, Wood instinctively understood that service had to be performed and delivered at the highest level of excellence. Wood confides, "In order to succeed in any business, you have to be in the arena – You have to be ALL IN! Success will never be achieved sitting on the sidelines." Wood also finds inspiration from a quote attributed to the 26th President of the United States, Theodore Roosevelt:
It is not the critic who counts; not the man who points out how the strong man stumbles, or where the doer of deeds could have done them better. The credit belongs to the man who is actually in the arena . . . if he fails, at least fails while daring greatly, so that his place shall never be with those cold and timid souls who neither know victory nor defeat.
Today, WOOD Consulting, a SBA Certified Economically Disadvantaged Woman-Owned Small Business (EDWOSB) Minority Business Enterprise (MBE) is a stellar example of what it means to be "ALL IN." Through hard work, dedication and perseverance the company has over 80 employees and holds several multi-million dollar service contracts from sources such as the Department of Defense, the Federal Aviation Administration, and the Internal Revenue Service, to name a few. Offering a diverse array of services and solutions, WOOD Consulting helps clients leverage, protect, and maximize their information technology investments.
Dr. Margaret Wood has served on many delegations representing small minority owned businesses. Today, she serves as a Commissioner on the State of Maryland's Economic Development Commission; serves on the leadership team for the U.S. Women's Chamber of Commerce as the Treasury Liaison, the 2017 WOSB regulation lead for the DoD Women-Owned Small Business Consortium; and the Church Treasurer for Emory Grove United Methodist Church. She has also been involved in several organizations focusing on mentoring at risk young women to increase college attendance. Over the years, Wood has been recognized for her business accomplishments as a standard bearer for small business leadership and philanthropy. A highly acclaimed professional in the IT industry, she is the recipient of numerous awards and recognition from state legislators and Congress for her business and community service, including the prestigious Entrepreneurial Success Advocate of the Year by the Small Business Administration (Washington Metropolitan Area). This honor recognized her dynamic abilities as a successful entrepreneur who has created jobs, expanded her business, provided innovative services, and given back to her community. . In 2010, Wood was selected to receive Washington Brava Women Business Achievement Award and in 2010 and 2012 the prestigious Top 100 Minority Business® Enterprise Award.
Dr. Margaret Wood's rise to the top has not been an easy climb. In fact, in 2003 she experienced her first taste of being on the edge of losing it all—she found herself homelessness with three children to care for. "Looking back, becoming homeless gave me a sense of clarity and direction that I would not have experienced otherwise. Now, it is crystal clear to me that being in business is not just about me but rather the service I could render to others— my family, my employees and my clients. This is my God-given purpose," says Wood. Without God, none of what I'm experiencing today would have been possible. And, I am of the firm belief that someone in my ancestry paid the price and paved the way for me." Wood admits.
Through a myriad of experiences—triumphs and trying times, Dr. Margaret Wood has come to realize that there is no magic pill for business success. "Simply put, it's all about hard work, persistence and relationship building to grow a successful business. What makes me great is that I never give up," says Wood. Wood goes on to say, "A business that doesn't grow, dies." Wood also believes that once you've found your gold mine, that is, your specific business niche, there's enough for everyone to succeed. "It is vitally important, says Wood, to stay connected with your employees and find ways to share success with them. As your business grows, strive to strike a balance in supporting the demands of your clients as well as the goals and career aspirations of your employees who serve them."
To the young entrepreneurs and her mentees, Wood offers this sage advice:
1)Walk in your purpose. Believe it before you see it. Once you decide to go into business, don't complain. Channel negative energy into doing positive things that will help grow your business.
2)Get organized. You can't work in chaos. You must live and be about creating an orderly business enterprise.
3)Build positive support systems. As an entrepreneur, you must surround yourself with dreamers and doers. Find creative ways to support your employees.
4)Be a good steward of what God has given you.
5)Make it your mission to give back to your community.
Wood gives back to the community by mentoring the next generation of women leaders and through numerous organizations including, Executive Alliance, AFCEA and the DoD Woman Owned Small Business Consortium. "Throughout my life I've been influenced and supported by people who have invested their time and energy in me. Likewise I have tried to invest in others. To me, success is seeing just an inkling of the positive influence and investment I have made in someone else's life," says Wood.
In addition to being an exemplary business owner, Dr. Margaret Wood is a sought after speaker and subject matter expert on entrepreneurship and government contracting. She is also the co-author of Tactual Resources at the College Level: Toys for Adult Learning, Journal for Accelerative Learning, Tactual Learning at the Doctoral Level: A Risk Worth Taking, Practical Approaches to Using Learning Styles in Higher Educations, Greenwood Publishing Group, Inc. and Exploring the Risks That Affect Community College Decision Makers, in the Encyclopedia of Decision Making by Ideas Group, Inc.
For more information, questions, and/or requests, please contact WOOD Consulting Services, Inc..
Corporate Office
www.woodcons.com
8115 Maple Lawn Boulevard
Suite 250
Fulton, MD 20759
Washington D.C. Office
600 Maryland Avenue, S.W.
Suite 610E
Washington, D.C. 20024
Phone: 301.377.5300
Fax: 301.377.5399